Brazil Fest returns to Greeley Park
A large one-day celebration of Brazilian culture with authentic food options, live music, samba dancing and an inflatable soccer tournament, Brazil Fest has grown significantly since its inaugural event in 2016. The free event returns to Greeley Park in Nashua on Saturday, Aug. 27.
"Last year was huge. I think it was probably our biggest year yet," said Mariana Silva, who co-organizes Brazil Fest with Bruno D'Britto. "It's like a day in Brazil, you know, the whole experience [is] like people going to spend a day in Rio without having to travel there."
According to Silva, the event was originally started as a way for Brazilian people in the area to come together and get to know one another. In 2017, Brazil Fest happened to fall on the same weekend as the Nashua Area Artists' Association's annual Greeley Park Art Show, with each event taking place on one side of the park. Many art show attendees since then have returned to Brazil Fest each year, Silva said, turning it into a celebration for the entire community.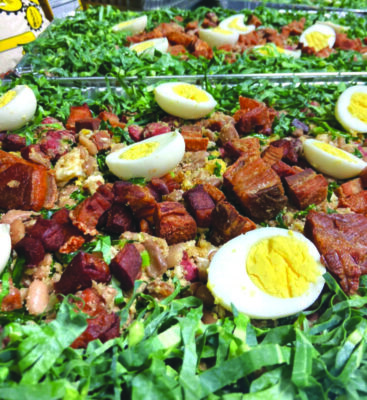 At least 12 area restaurants and community members selling different types of authentic Brazilian dishes are expected to attend, Silva said, the largest number of vendors in the event's history. Gu-La Haven and Sabor Brasil, both of Nashua, are two of the returning eateries, as well as Delicious Bites. Options will include pastel fritos — which Silva equated to Brazilian empanadas — and acarajé, a dish made from peeled beans deep fried in palm oil.
"Acarajé is very unique because you can only find it in the state of Bahia in Brazil," Silva said. "Not everybody loves it, but the people who do will travel for it. Last year, I had people travel for like an hour and a half just to eat the acarajé, because you can't really find it anywhere."
If you attend the festival during lunchtime hours, Silva said, there will be opportunities to order to-go boxes of traditional Brazilian-style barbecue with rice and beans. Coxinhas, which feature fried dough filled with shredded chicken, sauce and vegetables, and molded into the shape of a teardrop, are another featured option commonly consumed as a snack. For sweeter indulgences, there will be brigadeiros, or traditional Brazilian chocolate truffles.
"The brigadeiro is very, very famous," Silva said. "Every single birthday party as a child in Brazil, you know, you needed to have that. That was more important than the cake itself."
In addition to the food, there will be an inflatable soccer tournament, plus several live performances on the park's stage throughout the day. Two DJs and a group of Brazilian samba dancers, dressed similar to those who famously perform in the annual Rio Carnival, will be there.
Capoeira, a traditional Brazilian-style martial art with dance elements, is also part of this year's performances. Silva said door prizes like gift certificates to participating businesses will be drawn during the afternoon, which all attendees will have a chance to win.
Brazil Fest
When: Saturday, Aug. 27, noon to 6 p.m.
Where: Greeley Park, 100 Concord St., Nashua
Cost: Free admission and parking; foods are priced per item
More info: Contact event co-organizers Mariana Silva at 438-4263 or Bruno D'Britto at 760-848-4797
Featured photo: A samba dancer (left) at last year's Brazil Fest in Nashua. Courtesy photo.