I've got a firm rule for buying old photographs at flea markets; I'll definitely buy one, if the price is right, but there has to be some sort of identification on it, so I can do some research and find out who the subjects are. I want to know more about them. Where did they live? How were they related to each other? What happened to them? Were there any shocking skeletons in their closets?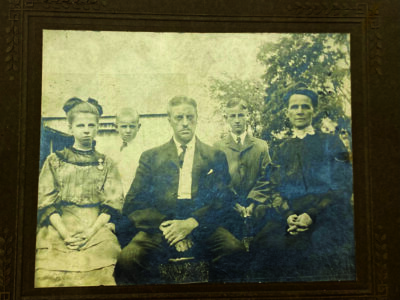 One look at this family, though, convinced me that they almost had to have a minimum of three literal skeletons. In the time it took me to get $5 out of my pocket, I constructed a backstory for each of these (technically unknown-to-me) people. I named the daughter Hortense.
From the quality of the photograph and the style of their clothes, I suspect that the picture was taken in the very early 1900s, perhaps 1904 or 1905. In very old photographs, from the mid-1800s, subjects did not smile, for fear of blurring the image in the several minutes that the film was exposed, but by the beginning of the 20th century the exposure time was down to a few seconds, so this somewhat forbidding-seeming family did not have to look this way. I get the feeling that it was just their default expression.
I don't know about you, but I feel like drinking something bitter.
Negroni – Two Ways
Perhaps the best-known bitter cocktail is the Negroni, a mixture of gin, Campari, sweet vermouth and a splash of soda water. If you are a fan of bitter-sweet flavors, it's a lovely break from the sweet/sour/boozy rut a lot of us find ourselves in from time to time.
One of the reasons you've heard of Negronis but rarely see anyone drinking one is the Campari. I like Campari enormously and use it for background bitterness in many drinks, but there are some cocktail fans, perhaps with less enlightened palates, who are not strictly fans of the red liqueur.
So here are recipes for two variations on the Negroni theme:
Mostly Traditional Negroni
1 ounce Campari
1 ounce botanical gin – I've been enjoying Uncle Van's
1 ounce sweet vermouth – I've been using Dolin Rouge
3 to 4 ounces plain seltzer
1 very large ice cube
Pour the Campari, gin and vermouth over a large ice cube in a rocks or highball glass.
Pour the seltzer over the other ingredients, and stir gently to combine.
Drink while looking at a photo of Audrey Hepburn and Gregory Peck in Roman Holiday.
As advertised, this version of the Negroni is both bitter and sweet. The addition of so much soda is somewhat controversial, but I feel that the cocktail benefits from the dilution and carbonization. It is a complex, adult drink.
But pink.
An Alternate Negroni
1 ounce Campari
1 ounce gin
1 ounce sweet vermouth
1 ounce Amaro Lucano
½ ounce plain seltzer
Another very large ice cube
This version is made in the same way as a traditional Negroni except that it replaces the Campari with another bitter Italian liqueur, Amaro Lucano, which uses different herbs and is less flamboyantly colored. The resulting cocktail is less frivolous-looking and doesn't need the extra soda.
Is it bitter? Yes. Is it delicious? Yes. Is it pink? Not even a little. Would the mother from the antique photograph drink one out of a teacup? Probably.
Featured photo. Negroni. Photo by John Fladd.