Santa in the Gate City
Nashua's Winter Holiday Stroll returns
By Mya Blanchard
listings@hippopress.com
The Winter Holiday Stroll in Nashua returns for the first time since 2019 on Saturday, Nov. 26.
The event begins at 5 p.m. with a candlelit procession along Main Street, from City Hall to Library Hill, where the holiday tree will be lit to kick off the event as well as the holiday season.
"I really want to bring the community together in a way that we haven't been together in a few years now," said Carolyn Walley, the executive director of Great American Downtown, which organizes the event.
"In previous years we've seen about 35,000 to 40,000 people," Walley said. "We haven't had it in the past two years, so [this year] we're expecting at least 40,000, maybe 45,000. There's a big buzz about it going around."
Live entertainment will start at 5:45 p.m. with more than 30 different acts performing throughout the downtown area, along with food and novelty vendors. There will also be an indoor craft fair at Saint Patrick's Church from 3 to 9 p.m. Attendees will also be able to play carnival games and enjoy food from different food trucks.
Some new editions to this year's event will include a caricature artist, an ax throwing trailer, and Santa's Village at 30 Temple St., where Santa and Mrs. Claus will be present along with a kids' train ride.
"This is an event that people grow up with. I was raised in Nashua [and] I've been going to this event since middle school," Walley said. "It's one of those events that people have gone to their whole life [and are] bringing their kids to now. … The fact that it hasn't happened in the past two years, everybody was really upset about it, so it's very much missed, and … the … response the community has given it [now that it's] being brought back has been overwhelming."
Great American Downtown's Winter Holiday Stroll
When: Saturday, Nov. 26, 5 to 10 p.m.
Where: Downtown Nashua
Cost: Free admission
Visit: downtownnashua.org
Merry and bright
Midnight Merriment returns to downtown Concord
By Mya Blanchard
listings@hippopress.com
Downtown Concord's 29th annual Midnight Merriment celebration kicks off at 5 p.m. on Friday, Dec 2, and goes until midnight.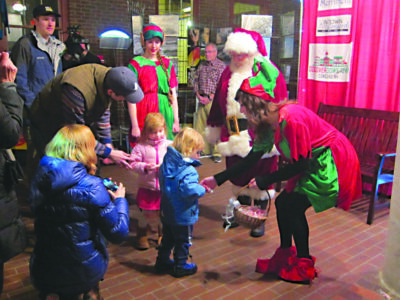 "Many of the downtown stores stay open until midnight and some of them do different things to promote people shopping later in the evening, so some of them will do special deals," said Jessica Martin, the executive director of Intown Concord, which organizes the event.
Holiday music will play as people walk the downtown streets surrounded by festive lights and displays.
In addition to shopping, attendees can make s'mores, drink hot chocolate, participate in a holiday dance party and have their picture taken with Santa Claus at City Plaza.
There are new additions to this year's event, including a free shopping trolley sponsored by Xfinity.
"It will take people to some of the areas downtown that aren't as easily accessible by foot," Martin said.
Another addition is a gingerbread showdown contest at Eatxactly Sweet Cafe.
Between the sales and festivities, this event helps create the incentive to shop locally.
"Black Friday is the week before, so it's just another push for people to shop local [and] support downtown businesses. … Not only are you buying your holiday gifts, but you're also keeping your money local, [and] supporting your friends and your neighbors in doing that, so it's really important," Martin said.
Some of the businesses will partner with nonprofits, and firefighters will be present asking for donations for muscular dystrophy. Members of the Concord Dance Academy's Booster Club will be at the Greater Concord Chamber of Commerce offering free gift wrapping.
"Some of the goals for this event are always to support the downtown businesses, educate the public on the importance of shopping local, [try] to kick off the holiday season on a good foot [and] put Concord on the map as far as being a holiday shopping destination," Martin said. "Another smaller goal is to try to expand people's definition of downtown, so that's why we're using the free trolley this year so [people can explore] some of our really fun, interesting shopping destinations."
Martin said that "[Midnight Merriment is] just a really quintessential New England holiday experience."
Intown Concord's 29th annual Midnight Merriment
When: Friday, Dec. 2, 5 p.m. to midnight
Where: Downtown Concord
Cost: Free admission
Visit: intownconcord.org
Featured photo: Santa visiting the Children's Museum of New Hampshire. Courtesy photo.