Mosaic Art Collective presents new exhibit with donation drive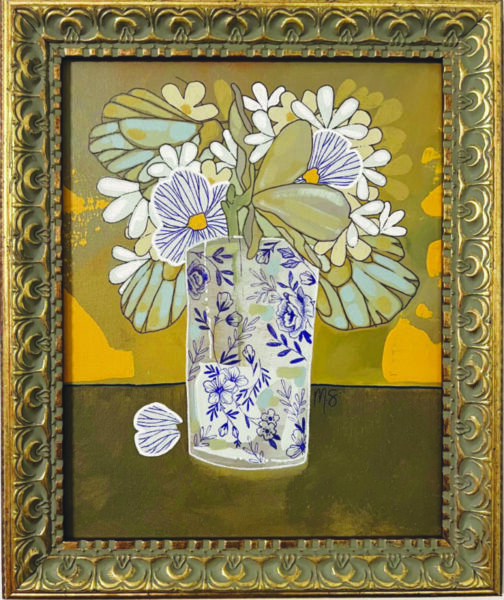 Just in time for the holiday season is Mosaic Art Collective's "A Few of My Favorite Things" exhibit, showing pieces that are 12×12" or smaller in size from Monday, Nov. 6, through Wednesday, Dec. 18, with an opening reception on Saturday, Nov. 11, from 4 to 8 p.m. The gallery will run an art supply donation drive for the Webster House concurrently with the exhibition.
"We had 112 pieces submitted and there will be 94 pieces on display," said Liz Pieroni, owner of the gallery. "There are many different mediums represented."
They include oil paintings on metal as well as on canvas, linoleum black prints, eraser prints, digital work, portraiture and acrylic paintings and other works depicting floral bouquets and mandala-like designs. The opening reception will include refreshments and music.
In addition to "A Few of My Favorite Things," See Saw Art will have a 120-square-foot exhibition space within Mosaic Art Collective throughout November and December, so there will always be something new to see.
"It's usually just a lot of really wonderful people gathering together to talk about art and life. It's really a celebration," Pieroni said of the opening reception. "We're also going to be doing a collection of art supplies for the Webster House, so I'm hoping that people will come with art supplies to donate."
The Webster House is a Manchetser residence for children ages 8 to 18 who are currently displaced from their homes. It offers services such as counseling and crisis management as well as trips and recreational programming. Donations can include any new or lightly used art supplies, such as crayons, paint brushes and paper.
"Art supplies especially are so helpful for kids who are in transition in one way or another to be able to express themselves," Pieroni said. "Even if they're not sharing the artwork that they're making, it's still cathartic in one way or another and I think most artists recognize that need to create work and just fully express their inner worlds. … It seems like such a simple thing, but it's … a fun way of giving back to children in need."
While most of the pieces in the gallery are done by New Hampshire artists, the venue features work from artists all around New England with various backgrounds and experience levels.
"What I think is incredibly unique about Mosaic is that we have artists that are very new [who are] creating [and] showing [their art] and then we have very seasoned professional artists who have been showing all their lives," Pieroni said. "I think what's wonderful about that is everyone has so much to learn from each other, the artists who have been exhibiting longer come with a lot of experience and the [emerging] artists have this really fresh perspective."
Mosaic Art Collective
Where: 66 Hanover St., Manchester
Hours: Sunday, 1 to 4 p.m.; Wednesday through Friday, 2 to 6 p.m.
Featured photo: Happy Hippie by Terri Cote. Courtesy photo.