Holiday-themed charcuterie boards that taste as good as they look
603 Charcuterie in late 2020, she started with just filling small takeout orders. A year later she's teaching weekly classes that keep getting sold out, and she recently expanded into catering larger boards and grazing tables for weddings.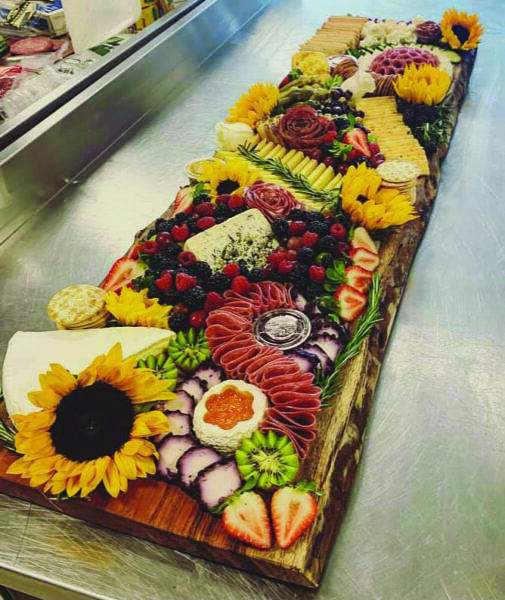 "This business started because I have always loved making charcuterie boards … just for family parties, birthdays and events," Zwart said. "It has blown up way more than I thought, and I've just been going, going, going, and continuing to add more things on."
More than just throwing cured meats and cheeses on a platter, creating the most intricate charcuterie boards is all about finding those palates that complement one another. It's a key part of what Zwart teaches in her classes and what other charcuterie businesses offer in their boards.
The upcoming holiday season is a great time of year to discover these flavor pairings. We spoke with New Hampshire restaurants, shops and charcuterie businesses for tips on how to construct holiday-themed boards that will stand out and taste just as delicious as they look.
Say cheese
Beyond a run-of-the-mill sharp cheddar or colby jack, cheeses varying in flavor, color and consistency will lend themselves to even more added pairings you can play with on your board.
"If you have a soft cheese then you'd want something sweet and fruity to go with it, like a sweet jam. A hard, mild cheese can go with a mustard or something spicy," Zwart said. "For people who are afraid of venturing out to the fancier cheeses, a manchego or a smoked cheddar is great. Manchego is a cheese from Spain, and the taste of it is kind of like a sharp cheddar mixed with a hard Parmesan. In my classes I call it a gateway cheese, because it's kind of like the next step."
Erica Stanford of The Char 603, based in Kingston, said brie is a great choice of cheese if you're looking to incorporate sweeter or fruitier flavors. Even fancier cheeses, like blueberry goat cheese or cranberry cinnamon goat cheese, take it a step further by adding a fun pop of color.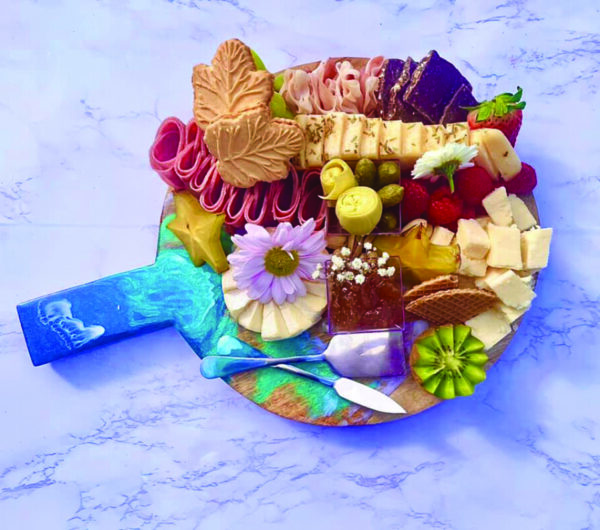 "I think a lot of times when it comes to cheese, people like to stick to their cheddars or their pepper jacks," she said, "but there are so many other cheeses that have so much good flavor that you wouldn't even think about, and they also end up enhancing all the flavors on the board. … Another one that I love is a creamy Toscano cheese, and it's with syrah, so it has a wine rind on it. It's got a beautiful purple color and it also tastes amazing."
With a round cheese like brie you can create themed cutouts in the center of the cheese wheel out of a small cookie cutter, which can then be filled with a sweet jam.
"You'd want to use a cookie cutter that's smaller than the diameter of the brie, so it doesn't cut off the edges, and then you're cutting the whole top off so it's like a flat cookie," Zwart said. "Then you can just press your cutter into that top piece, put jam on your bottom piece and place the top part back over it without the little cutout. … Anything sweet and fruity works well. A fig jam is great, or a strawberry rhubarb or apricot jam. Even maple is good."
When it comes to cured meats, you can stick with a simple genoa salami or soppressata, or go with prosciutto, a sweeter and saltier option that Zwart said goes well on a holiday board. Slices of salami can also be easily transformed into "roses" for additional aesthetic appeal.
"I call them 'meat flowers,'" she said. "You roll up a slice nice and tight, and then you wrap another one tightly around it and then another and another, and then you start loosening up over time. You loosen them up and just keep wrapping them around, not too symmetrically."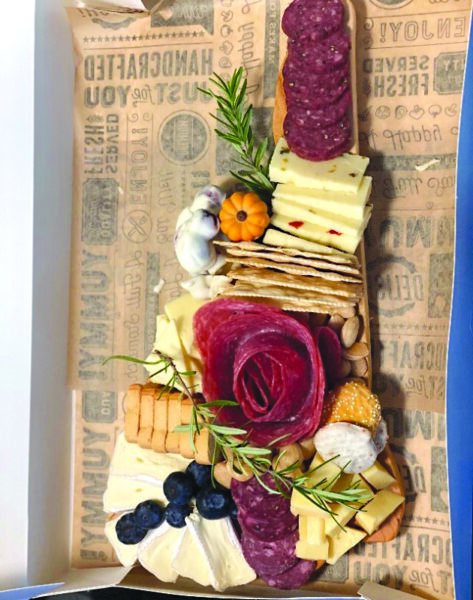 Additional accoutrements
An artfully crafted charcuterie board may start out with cheeses and salamis, but how you build it from here can really be about making it your own unique creation.
"You can play around with different combinations, and the options are endless," said Melissa Hayden, co-owner of Granite Slates of Stratham. "Berries, dried fruits, honey and jams bring fresh and sweet flavors, and dark chocolates or cookies are great additions as well."
For holiday boards, Stanford said, herbs like rosemary, sage or thyme can make great additions when used as garnishes. White chocolate-covered cranberries are also a favorite of hers.
"They are fantastic," she said. "The great thing about them is that you're getting the white and the red, but you're also getting that sweet and slight sour kick."
No matter the time of year, Zwart's favorite ingredients to add to boards are pickled items, like kalamata olives and pepperoncinis. But you could even go with dilled green beans or asparagus.
"I think it's very vegetably, very fall-looking, and would be great for Thanksgiving," she said. "Grapes are always a good staple too. I feel like most people at gatherings, when they are eating charcuterie, a lot of them are drinking wine, so that's self-explanatory. Depending on the kind of color scheme, if you're trying to stick to fall colors, you can use red grapes."
Another trick you can do is make a flower out of a kiwi fruit, taking a knife and cutting in small zigzag-shaped slices, or what Zwart said is similar to the mouth of a jack-o'-lantern.
As for crackers, Stanford recommends serving them on the side or away from anything moist or wet, like salami or goat cheese.
"One of the things I've been working with is using a cupcake liner and putting your crackers in that … and you can get holiday-themed ones too, so that's an extra fun piece," she said.
Hayden also said crackers ought to be served on the side, especially if you're storing your board.
"While most of the ingredients … will remain fresh in the fridge for 24 hours, crackers will not," she said. "They tend to get soggy and absorb the flavors of everything around them."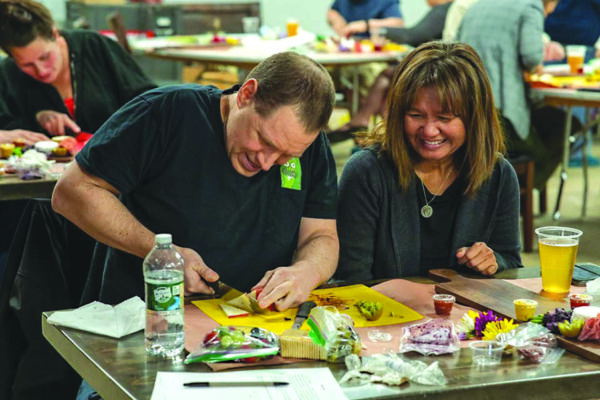 Charcuterie classes

If you want to learn some hands-on tricks (while sampling lots of cheese), you can take a charcuterie board-building class led by Theresa Zwart of 603 Charcuterie, based in Derry. She began offering classes at Creative Chef Kitchens this past February, but has since branched out to doing them at area wineries and breweries. Private classes can also be booked.

Participants are provided everything from the ingredients to the tools, right down to the wooden board itself, which can be taken home at the conclusion of each class. From start to finish, classes typically take around an hour and a half to two hours, and Zwart will often change up which types of cheeses, meats and other accoutrements are featured.

"During every class, I teach people how to make a salami rose and some sort of fruit flower," Zwart said. "Then there's different ways of arranging everything, and different ways of cutting hard cheeses versus soft cheeses. I'll talk them through the pairings as well, so for example if you have a soft creamy cheese I'd say you'd want a sweet fruity flavor."

Two beers or wines are usually factored into each class cost, depending on where it's being held.

The feedback for her classes has been so great that Zwart said they repeatedly sell out, often with returning participants who then bring a new guest to try them.

"I think people like that it's a different sort of date night idea or a thing to do," she said. "It's kind of similar to a paint night, but it's even better because you get to eat the finished product."

Here are a couple of 603 Charcuterie's upcoming classes, but be sure to check back on their website and Facebook page, as more dates will be announced in the near future. Email 603charcuterie@gmail.com to register.

• Sunday, Dec. 5, at White Birch Brewing (460 Amherst St., Nashua), from 5 to 7 p.m. Tickets are $98.
• Tuesday, Dec. 14, at Rockingham Brewing Co. (1 Corporate Park Drive, Derry), from 5:30 to 7:30 p.m. Tickets are $98.
Leave it to the pros
If you'd rather order and pick up a ready-to-eat charcuterie board for your next holiday gathering, several local eateries and other businesses have you covered.
Steven Freeman started pushing charcuterie boards when he took over ownership of Angela's Pasta & Cheese Shop in Manchester in June 2020, but he was making them for decades before then. Each board at Angela's is built less than 24 hours from when it's picked up, featuring cheeses sliced in house, and you never know what other additions you might come across.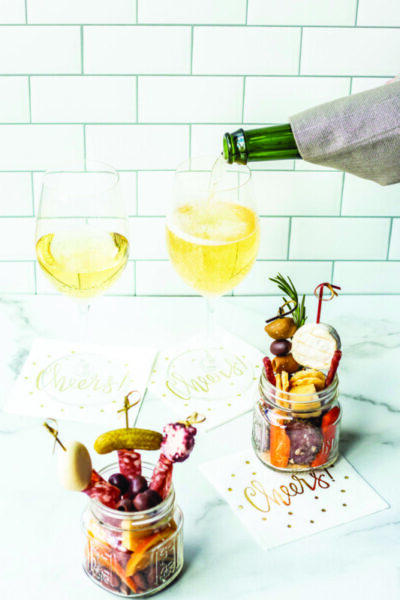 "Fresh local honeycomb is the centerpiece of every one of our charcuterie boards, because the sweetness of the honey is a natural pairing for almost anything," Freeman said. "What I love about selling charcuterie at the shop is that we get to expose our customers to a bunch of cheeses, or nuts, or fancy items that they wouldn't have otherwise tried."
Caperberries, for example, are tart fruits the size of the grapes that you'll sometimes find. Freeman has also loaded up his boards with marcona almonds, flavored jams and jellies, amarena cherries, European orange peels, and even a special toffee variety he gets locally.
"We interview the customer and ask them what they want," he said. "Some might say they want more cheese than meat, or they say they don't want any stinky blues or runny triple creams … so we let them sort of define the parameters and then let us go wild."
At Local Baskit in Concord, owner Beth Richards said she has begun offering small- and large-sized custom cheese and charcuterie boards, in addition to single-serve "jar-cuteries," which feature a variety of sweet and savory items portioned individually in small mason jars.
"I've been doing the grazing boards for the last two holidays for our subscribers, and last year they really took off," Richards said. "I saw the jarcuterie on the Today show like everybody else, and decided to make it a line sold year-round. … I think they're really fun for a book club or some type of small gathering, or they can even be really cute for kids' birthday parties."
Fig & Olive out of Milford features four standard boards, each with distinct flavor profiles and cheeses, meats and other accoutrements to match, but owner Danielle Tedford has since introduced other themed options. The brunch board, for instance, consists of brie cheese, fresh fruit and prosciutto along with mini biscuits, a fruit jam and flavored bread slices, while holiday cocoa boards have included candy canes, marshmallows, chocolate chip cookies and more.
"I really love to putting the effort in to bring different flavors together that work, or things that maybe people don't really think of that would go together," Tedford said.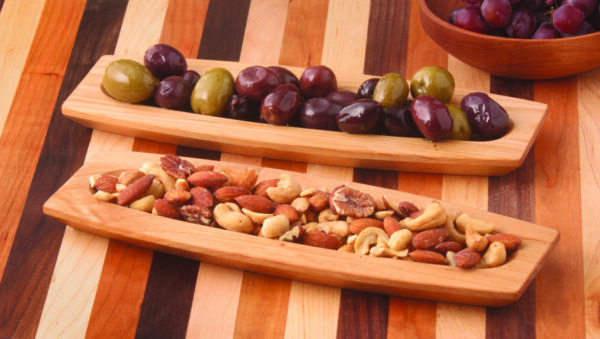 All across the board

Some charcuterie businesses in the state even have local partners for their wooden boards.

Zwart, for instance, sources her boards from Souhegan Wood Design of Amherst, which you get to take home with you after completing a class with 603 Charcuterie. Owner Andy Pearl is a self-taught charcuterie board builder who said he started the business as a side job making one for his own wife. He makes a few different sizes out of maple, birch and cherry hardwood.

Erica Stanford of The Char 603 in Kingston similarly began a partnership with Fox + West, a woodworking company out of Danville, for her own hand-crafted boards.

In Contoocook, New Hampshire Bowl & Board is unique for not only making its own reversible boards — featuring a cutting and carving board on one side, a charcuterie serving board on the other — but also its own charcuterie-themed accessories, from smaller wooden trays to carry your olives or your nuts, to wooden honey dippers and cheese spreaders.

"I think every board should have a little companion with it," owner Paul Silberman said. "We try to give people the ability to really make it their own. Much of it can be personalized."
Where to get charcuterie boards, artisan cheese boards and platters
This list includes New Hampshire-based businesses offering custom charcuterie boards ahead of the holiday season, in addition to butcher shops offering meat and cheese platters and restaurants offering artisan cheese and charcuterie boards from their starter menus. Do you know of a local business offering charcuterie or cheese boards or platters that isn't on this list? Let us know at food@hippopress.com.
• 603 Charcuterie (Derry, 603charcuterie.com, find them on Facebook and Instagram) offers charcuterie boards to go, sourcing nearly all of its items from New Hampshire providers. Owner and founder Theresa Zwart also regularly holds charcuterie board-building classes at area breweries and wineries and, as of last month, is now licensed to provide catering services to weddings and other larger events and parties. Special holiday-themed charcuterie boards are available to order for Thanksgiving and Christmas, for pickup at Creative Chef Kitchens (35 Manchester Road, Derry).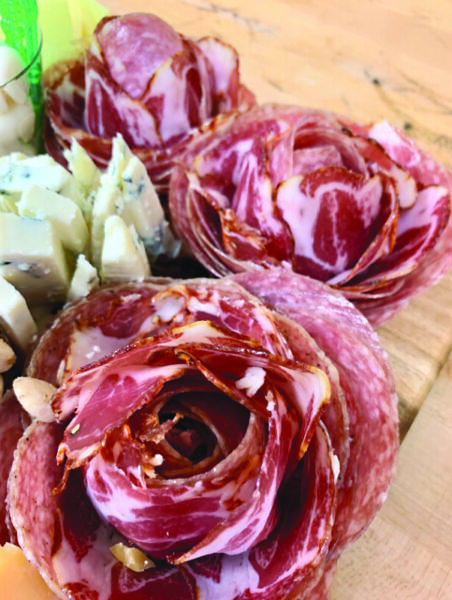 • 815 Cocktails & Provisions (815 Elm St., Manchester, 782-8086, 815nh.com) offers charcuterie boards on its starters menu, featuring hand-selected cured meats, cheeses and other accoutrements.
• 900 Degrees Neapolitan Pizzeria (50 Dow St., Manchester, 641-0900, 900degrees.com) offers an artisanal cheese display with nuts and fresh fruit on its private dining and catering menu, featuring herb-crusted goat cheese, cubed grana padano, provolone, Italian fontina, Gorgonzola, and other soft and hard cheeses. The eatery's dine-in appetizer menu also has cheese boards with the option to add cured meats like prosciutto, ham or salami.
• Angela's Pasta & Cheese Shop (815 Chestnut St., Manchester, 625-9544, angelaspastaandcheese.com) takes orders for charcuterie boards, featuring freshly sliced cheeses, cured meats, and other items like nuts, dried fruits and more. Boards are usually available for pickup with a 24- to 48-hour ordering notice.
• Bedford Village Inn (2 Olde Bedford Way, Bedford, 472-2001, bedfordvillageinn.com) offers an artisan local cheese board on its dining room appetizer menu, featuring house-made baguettes, lavash, black pepper walnuts and local honey.
• The Birch on Elm (931 Elm St., Manchester, 782-5365, thebirchonelm.com) has a cheese and charcuterie option with a rotating selection of meats and cheeses, as well as grilled bread and house pickles and preserves.
• Brothers Butcher (8 Spit Brook Road, Nashua, 809-4180; 142 Lowell Road, Hudson, 577-1130; brothers-butcher.com) offers assorted deli platters featuring Boar's Head meats and cheeses, available in medium (serves 15 to 20 people) and large (serves 25 to 30 people) sizes. Selections can include Genoa salami, hot capicola, prosciutto, honey ham, provolone cheese and more. Order as soon as possible for Thanksgiving — pickups will be available through Wednesday, Nov. 24, at 5 p.m.
• Cask & Vine (1 E. Broadway, Derry, 965-3454, cask.life/cask-and-vine) offers "A Little Something to Nosh On," featuring a selection of assorted cheeses, salami, dried fruit, hummus, dilly beans, crackers and pita chips.
• Celebrations Distinctive Catering (1017 Second St., Manchester, 888-401-3663, celebrationsmenu.com) offers a handcrafted charcuterie and tapas display (serves five people) featuring organic salmon, sous-vide Magret duck rillettes, prosciutto-wrapped dates stuffed with Gorgonzola and almonds, grilled assorted vegetables and more. Assorted cheese, fruit and vegetable platters (serves 10 people) are also available.
• The Char 603 (Kingston, char603.us, and on Facebook and Instagram @thechar603) offers a variety of themed charcuterie boards to go, available to order online with at least a few days advance notice with local pickups and deliveries.
• Colby Hill Inn (33 The Oaks, Henniker, 428-3281, colbyhillinn.com) offers a local farmers' cheese and charcuterie plate, which includes four local cheese and two charcuterie selections, plus house-made pickled vegetables, grilled bread, artisanal crackers, and other accoutrements like fig paste and honey.
• Concord Food Co-op (24 S. Main St., Concord, 225-6840, concordfoodcoop.coop) offers a cheese and cracker tray on its catering menu, featuring assorted domestic and imported cheeses that are served with candied pecans and dried cranberries.
• Copper Door Restaurant (15 Leavy Dr., Bedford, 488-2677; 41 S. Broadway, Salem, 458-2033; copperdoor.com) offers a charcuterie and cheese board on its starters menu, featuring hand-selected meats, cheeses and seasonal accompaniments.
• The Crown Tavern (99 Hanover St., Manchester, 218-3132, thecrownonhanover.com) offers a party platter on its starters menu, featuring soppressata, pepperoni, fresh mozzarella cheese, Vermont cheddar, feta, olives and wood oven focaccia.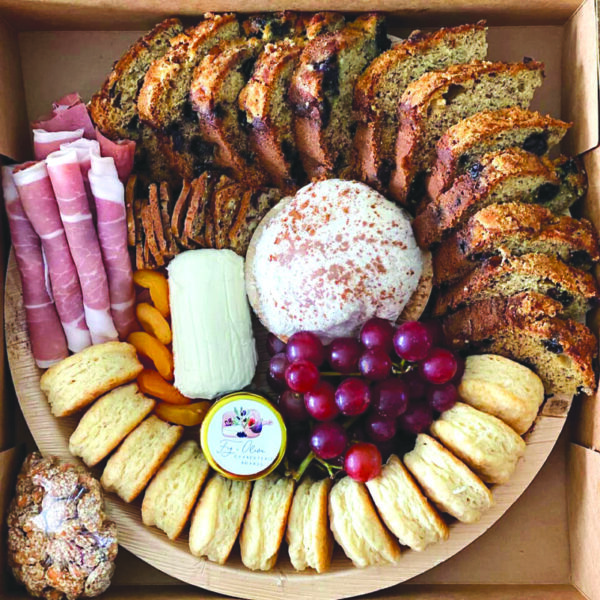 • Cured and Craved (Auburn, find them on Facebook and Instagram @curedandcraved) takes orders for charcuterie boards to go. The contents of each board may vary depending on availability but will typically include cured meats like prosciutto, salami and pepperoni, goat cheese, brie, sharp cheddar, Gouda and blue cheese, and additional items like Kalamata olives, nuts, and fruits like grapes, dates, kiwis or dragon fruit. Orders can be placed online through the Facebook page, with local pickups and deliveries available.
• Fig & Olive (Milford, figandolivenh.com, and on Facebook and Instagram @figandolive.nh) offers a variety of themed charcuterie boards to go. Selections include classic boards like "The Spicy," "The Sweet," "The Savory" and "The Smokey," while owner Danielle Tedford has also done brunch boards and holiday cocoa boards. An advance ordering notice of at least five days is requested, to be placed online through the website. Boards can be picked up or delivered in Milford or surrounding areas.
• The Flying Butcher (124 Route 101A, Amherst, 598-6328, theflyingbutcher.com) offers deli platters featuring a variety of assorted meats and cheeses, including ham, roast beef, turkey, Genoa salami, and American, Swiss and provolone cheese. At least a week's advance ordering notice is encouraged.
• The Foundry Restaurant (50 Commercial St., Manchester, 836-1925, foundrynh.com) offers local cheese and charcuterie plates on its starters menu, with the option to add house-made pickles or chef's choice mixed nuts.
• Granite Slates (Stratham, graniteslates.com, and on Facebook and Instagram @graniteslates) offers charcuterie boards with hand-selected cheeses, meats, assorted crackers, seasonal fruits, nuts and more. Boards are available in three sizes (small, medium and large), with the most popular, the medium, serving four to six people. Ordering is done online, with pickup and delivery options within 25 miles of Stratham. Co-owners Sarah Thibodeau and Melissa Hayden currently have plans to open a retail charcuterie shop, where they hope to offer classes and provide seating to enjoy small boards with locally made baked goods, coffee and tea.
• Greenleaf (54 Nashua St., Milford, 213-5447, greenleafmilford.com) has a local cheese board on its starter menu, usually with other accoutrements like honeycomb, crostini or pickled cucumber.
• Hermit Woods Winery & Deli (72 Main St., Meredith, 253-7968, hermitwoods.com) offers a few charcuterie and cheese board options on its deli menu, featuring a variety of New England-sourced meats, cheeses and spreads that are served with crackers. Ingredients can also be packed individually for you to take home and create your own board with.
• Industry East Bar (28 Hanover St., Manchester, 232-6940, industryeastbar.com) has a charcuterie board on its starters menu that is available in small and large sizes, featuring an assortment of cured meats and cheeses, candied nuts, local honey, crostini, pickles, preserves and whole grain mustard.
• J&B Butcher (259 E. Main St., East Hampstead, 382-0999, jandbbutcher.com) offers a variety of Boar's Head deli platters on its catering menu, like the Italian festival, featuring mortadella, salami, hot capicola, prosciutto and provolone cheese.
• LaBelle Winery (345 Route 101, Amherst; 14 Route 111, Derry; 672-9898, labellewinerynh.com) offers an artisan cheese board on its holiday catering menu, featuring an assortment of artisanal local cheeses with dried fruit, nuts and The Winemaker's Kitchen jam that's served with crackers. Two sizes are available. The deadline has passed to place orders for Thanksgiving, but Christmas orders are now being accepted.
• Local Baskit (10 Ferry St., Concord, 219-0882, localbaskit.com) is now offering custom cheese and charcuterie boards, available for individual orders of small and large grazing platters, as well as individually portioned "jar-cuteries," featuring sweet or savory items served up in small mason jars. Each order can be custom made with a 24-hour notice or less, depending on volume.
• McKinnon's Market & Super Butcher Shop (236 N. Broadway, Salem, 894-6328; 2454 Lafayette Road, Portsmouth, 559-5714; mckinnonsmarkets.com) offers several types of cheese platters on its catering menu. The classic cheese platter, for instance, comes in 12- or 16-inch sizes and features hand-cut selections of cheddar, Swiss, pepper jack and colby jack cheeses, and is garnished with red and green seedless grapes and a port wine cheese ball with almonds.
• Moulton's Kitchen & Market (10 Main St., Amherst, 673-2404, moultonsmarket.com) offers several types of snack platters on its catering menu, including a Calef's cheese and cracker tray that's available in small (serves six to eight people) and large (serves 12 to 15) sizes.
• Mr. Steer Meats (27 Buttrick Road, Londonderry, 434-1444, mrsteermeats.com) offers a variety of meat and cheese platters to choose from, including the Italian festival, which features Genoa salami, capicola, mortadella, sopressata, pepperoni, your choice of two cheeses, and prosciutto as an added option. Platter orders require at least a 24-hour notice.
• Palette (Exeter, palettegrazeboards.com, and on Facebook and Instagram @palettegrazeboards) is a sister business of Laney & Lu in Exeter, offering several types of assorted boxes of artisanal cheeses, meats, crackers, fruit and more. They're taking Thanksgiving orders now with a 48-hour advance notice. Orders must be placed by Nov. 22 for you to receive them by Thanksgiving Day. Free pickups can be made on Wednesday, Nov. 24, at Laney & Lu (26 Water St., Exeter), while deliveries can also be made within a 60-mile radius.
• Presto Craft Kitchen (168 Amory St., Manchester, 606-1252, prestocraftkitchen.com) is taking orders for charcuterie board platters for Thanksgiving, available in several sizes, including small (serves 6 to 10 people), medium (serves 12 to 18 people), large (serves 20 to 30 people) and mega (serves 50). Each board features an assortment of domestic and imported cheeses, along with Italian salumi, berries, crackers and breads. Order by Nov. 19. Pickups will be on Tuesday, Nov. 23, and Wednesday, Nov. 24.
• The Prime Butcher (201 Route 111, Hampstead, 329-7355; 58 Range Road, Windham, 893-2750; primebutcher.com) offers several platters on its catering menu, like a Boar's Head meat and cheese platter with added garnishes, and an antipasto platter with Italian cold cuts and marinated vegetables.
• Revival Kitchen & Bar (11 Depot St., Concord, 715-5723, revivalkitchennh.com) has a New England-sourced cheese selection on its starters menu, which you can build by choosing add-ons like fennel salami, marcona almonds, marinated olives and more.
• Station 101 (193 Union Sq., Milford, 249-5416, station101nh.com) has a small selection of food items to go with its beer selections, including an assortment of cheeses, meats and crackers.
• TJ's Deli & Catering (2 Pittsburgh Ave., Nashua, 883-7770, tjsdeliandcatering.com) has a variety of trays and platters on its catering menu, including a tray of assorted cheeses with pepperoni, and an Italian platter that has imported ham, Genoa salami, mortadella, pepperoni and provolone cheese, along with potato salad, pickles, olives and rolls.
• Tomahawk Butchery & Tavern (454 Daniel Webster Hwy., Merrimack, 365-4960, tomahawktavern.com) offers charcuterie boards featuring four meats and four cheeses, along with bread, honey and bruschetta.
• The Town Cabin Deli & Pub (285 Old Candia Road, Candia, 483-4888, towncabin.com) offers several types of platters on its catering menu, like a cheese and cracker platter with the option to add meats, and an Italian platter available in two serving sizes, with imported mortadella, capicola, salami, pepperoni and provolone, served on greens with marinated artichoke hearts, roasted red peppers and kalamata olives
• The Tuckaway Tavern & Butchery (58 Route 27, Raymond, 244-2431, thetuckaway.com) offers several types of trays and platters on its catering menu, including assortments of meats and cheeses that are available in half tray (serves 15 people) and full tray (serves 25 people) sizes.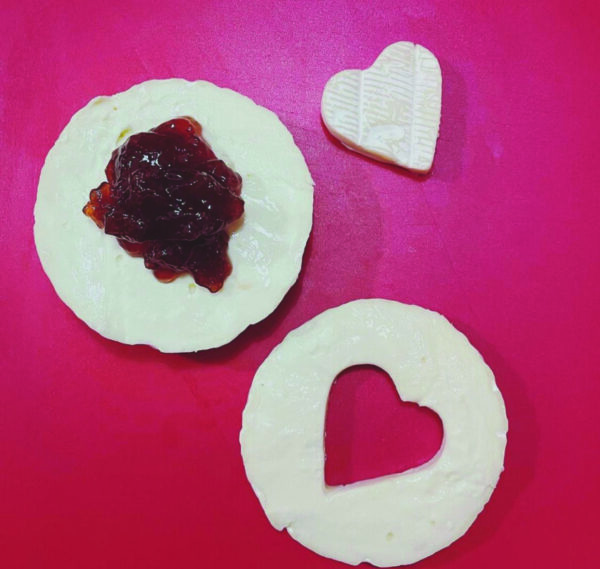 Brie cheese and jam cutout
Information courtesy of Theresa Zwart of 603 Charcuterie in Derry

• Choose a wheel of brie cheese with a diameter wider than your chosen cookie cutter.
• Choose a top side of the brie and carefully cut it off, about ¼ inch thick. You should have a wide circle base and a thin circle top.
• Use your cookie cutter to cut the shape in the middle of the thin top piece of your brie.
• Carefully remove your cookie cutter, keeping both the outside and the inside of the brie intact. Set aside the inside piece.
• Place a scoop of your choice of fruit jam in the center of your large base brie.
• Take your thin top piece of brie and place the intact outskirts back on the base (the jam is in the center and showing in the open shape). Gently "squish" the outside edges of your circle to the base to secure the jam in the center.
• Place the inside of the brie cut anywhere you want on your board and enjoy.
Featured photo: Angela's Pasta & Cheese Shop in Manchester. Courtesy photo.