The Patio at the Mile Away now open in Milford
A Milford institution for more than 50 years, the Mile Away Restaurant is best-known as a frequently visited spot for special occasions of all kinds, from birthday and anniversary parties to weddings. A new outdoor space directly adjacent to the eatery's main dining area is inviting guests to enjoy lighter fare in a more casual setting, featuring its own separate kitchen and menus, along with a seated bar with TVs and additional seating at patio tables with umbrellas.
The Patio at the Mile Away, which recently opened for the season, operates during the same hours as its main restaurant and event center, weather permitting. It's open to walk-in guests and, unlike the Mile Away's plated four-course European-style dinners, offers a menu of shareable tapas, entree-sized salads and soups, and burgers and sandwiches with choice of a side. The outdoor bar even has its own draft lines and specialty cocktail offerings.
"It's essentially a completely separate concept, and it's like having a completely different restaurant that just happens to also be on the premises," Mile Away general manager Kyle Altman said. "[We wanted to] have a more casual option for people to come out and just have a drink after work, which the four-course European-style fine dining thing doesn't necessarily appeal to that particular occasion. But now, we can appeal to both."
Although the patio space was constructed during the summer of 2019 before making its debut that fall, this is the first season in which the new outdoor kitchen is up and running. It's full of unique amenities that longtime Mile Away owner Joshua Murphy built himself, from a corrugated steel roof over the bar seats to a pulley-like mechanism on its wooden fence, the latter designed to give wedding guests privacy during concurrent ceremonies.
Mile Away executive chef Mark Worcester, an industry veteran, has worked several stints at the restaurant on and off over the years, dating back to 1978. He said the patio's menu was created with simplicity in mind, as well as various best-sellers on previous menus. Only a few items, like the Mile Away's famous Swedish meatballs, cross over with the restaurant's main dinner menu.
"We've been here for over 50 years, but the thing is that … people will get used to just coming here for special occasions, and we wanted to kind of shake it up a little bit," Worcester said.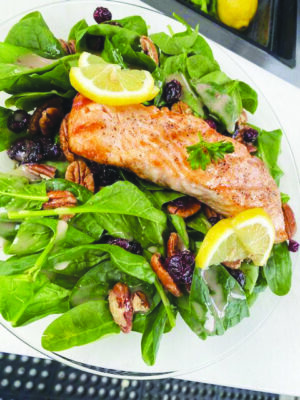 But despite its more casual approach, Altman said the menu will still feel familiar to guests who expect that traditional tried and true cuisine the Mile Away has long been known for.
"You don't have to be constantly doing the newest things with the newest ingredients, if you do the classic recipes perfectly," Altman said. "That's some of the appeal. … Sometimes you don't want to try a new thing every time you go out. You want this thing that you get every year on your anniversary, because we do it perfectly and no one else can do it."
According to Altman, the Mile Away building was originally a farm built way back in 1746, and was one of the earliest settlements of the town of Monson, New Hampshire (now parts of Hollis, Brookline and Amherst). The farm is one mile away from Monson rock, hence the eatery's name.
The plan is for the patio to operate from around late April through mid-October, or around when the Mile Away hosts in annual Oktoberfest celebration, although they do have propane heaters they can install on colder nights. Altman added that it can also be available to wedding clients.
"If people want to have a bachelor party, or if they want to just rent this out as part of their program with our wedding packages, this is an option … just the same as they can rent out the private room inside the restaurant," he said.
The Patio at the Mile Away
Where: Mile Away Restaurant, 52 Federal Hill Road, Milford
Hours: Wednesday through Saturday, 5 to 8 p.m., and Sunday, 1 to 6 p.m. (hours are weather permitting). Closed Mondays and Tuesdays.
More info: mileawayrestaurantnh.com/the-patio
Walk-ins are welcome for outdoor patio service; no reservations required.
Featured photo: Patio photo by Matt Ingersoll.