Concord author talks about the inspiration for her award-winning book
A children's book born out of divorce, a trip to a garden center and an itch to write has won two 2021 Biennial New Hampshire Literary Awards, two years after it was self-published by Kayla Fisher — a surgical technician with "a writer's heart."
Rootbound Rescue won the Children's Picture Book category and the People's Choice Award in that category, the only book out of the 80-plus submitted to win two awards. It's about a hellebore rose named Helen who is uprooted from the life she expects and learns how to flourish in her new life with the help of some animal friends.
"She's packed in the back of a truck, on her way to be planted in a spectacular garden, when the truck hits a bump and she falls off and lands in a ditch," Fisher said. "A lizard comes … and says, 'You are where you are. You're here. This is where you landed, like it or not [so] be here and grow here.'"
The idea for the book came during a trip to a local garden center, when Fisher saw the owner, Dennis, grab a plant that was too big for its pot, tear out some of its overgrown roots, and settle it into a bigger pot.
"It just hit me, this analogy of having your roots ripped up," she said.
Fisher saw her own life in that moment. Newly divorced, she'd been feeling unrooted herself, worried about how she was going to grow in this new life that she hadn't expected.
"You put your roots down with a person and it [doesn't] work and you basically just got torn out of the ground," she said. "After I saw [Dennis] pull that plant out I thought, that's my story. It clicked so heavily, it surprised me."
Fisher wasn't new to writing; her first career was in marketing and PR, and she wrote for magazines as a freelancer. She took time off to raise her children, but when she was ready to get back into the workforce, technology and social media had changed marketing as she knew it. So she decided to go back to school to get into the medical field.
"I graduated high school 1985, when AIDS was really coming to light, and I really wanted to get into medical research and I really wanted to solve this problem," she said.
But her English teacher pointed out that her grade in chemistry was a D+ and encouraged her to stick with what she excelled at.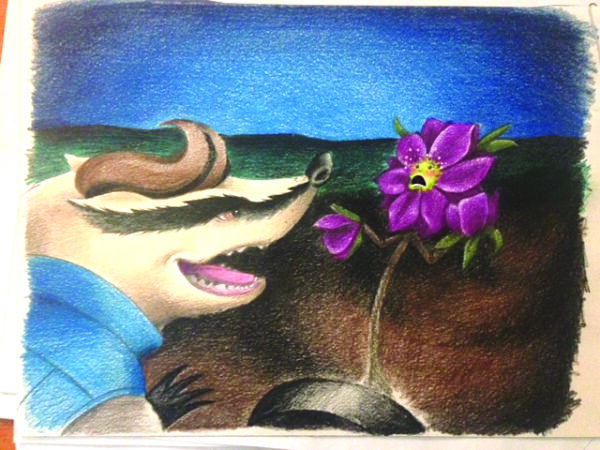 "She said, 'That is the gift that you have — go be a writer,'" Fisher said.
So while Fisher transitioned to the medical field and trained to be a surgical technician, it was important to her to continue writing, as a hobby rather than a job.
"I used to write for money, and now I write for love," she said. "I have a writer's heart."
It had been a lifelong dream to write a children's book, so that's where her heart took her with Rootbound Rescue. She worked on the book over the course of a year, writing for at least 15 minutes a day.
When the writing piece was done, Fisher reached out to Beka Chase, a graphic designer she'd worked with when doing PR.
"I always stayed in touch with her because she was just brilliant," Fisher said.
It took a couple of years for the two to finish the book, incorporating the illustrations into the text.
"It was just a really great creative process; she would do these beautiful boards and creative development," Fisher said. "She was very intuitive. … The characters jumped off the page the way she developed [them]."
The end product isn't your typical children's picture book, Fisher said. It's more than 50 pages long, and the message is one that likely resonates with adults, too. Fisher likened it to the message in Shel Silverstein's The Giving Tree, and to pretty much any Disney movie, with content and concepts that are more adult but with characters and visuals that are appealing to children.
"I think that for kids it's an opportunity to look at how you grow and how you have to change," Fisher said. "[It] has sort of this timeless message of growth."
Rootbound Rescue was published in July 2019, but Fisher said that was more for herself and her sense of accomplishment. But as a member of the New Hampshire Writers' Project, she was aware of the biennial New Hampshire Literary Awards, and the 2021 awards accepted for consideration any book written in New Hampshire from 2019 on. So she went for it, and the feedback and two awards were beyond her expectations.
"This is my piece of art, [and] I've been thrilled with how it's been received," she said.
Knowing that people see value in her book has prompted Fisher to start promoting it, which she had never really done before, so to her it almost feels like the book is newly published. She's thinking about writing another one, too.
"In my mind I'm working on another children's book with my 16-year-old daughter, Olivia, [who is] an amazing writer," Fisher said.
The two of them had been pondering the marvels of their golden retriever's face one day and started throwing out story ideas. The title, if they do turn it into a book, will be Saggy Baggy Dog Jaw.
"I think she's working on it in her head too," Fisher said.
Rootbound Rescue

You can find Kayla Fisher's children's book in Gibson's Bookstore in Concord, on Amazon and on lulu.com.
Featured Photo: Kayla Fisher. Courtesy photo.